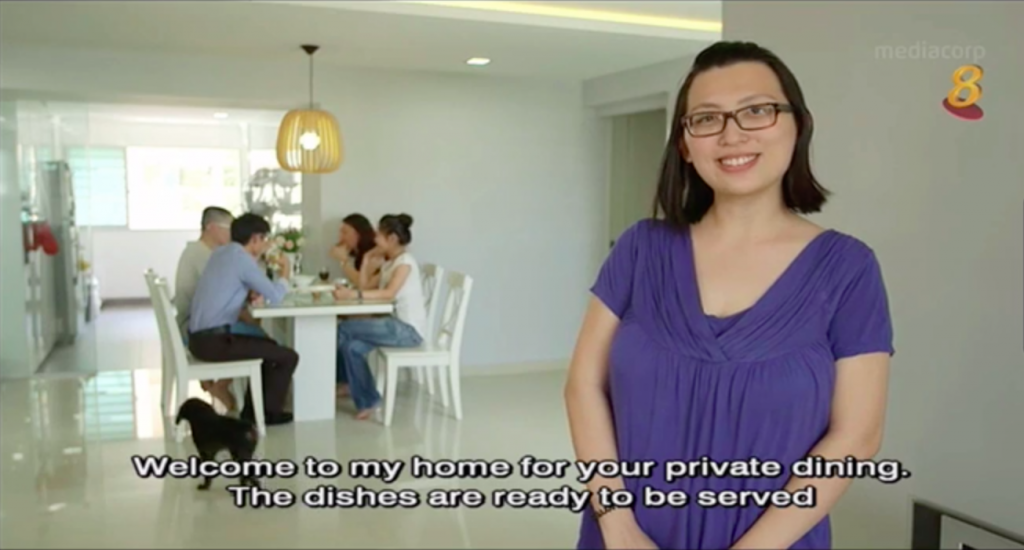 5 mins of fame and why I became a vegetarian
---
Sharon's Kitchen recently appeared on Singapore national TV!
Watch it here! My segment starts at the 10minutes mark.
It was such a humbling experience and I am so thankful that I can use it as a platform to spread the message of Vegetarian Food can be Tasty too! If you like what you see and would like to join us for a home dining experience, get in touch here!
---
I've decided to share my story on why I chose to become a vegetarian as mentioned in my About Me page and because it was cut from that episode.
People who know me knew that my husband has been a vegetarian for over 10 years. When we got married I promised that I would keep our kitchen free from meat and thus began my journey in vegetarian cooking. It was tough initially, as I struggled to make food taste good without onion and garlic. I've tried to become a vegetarian myself for a few times but failed terribly as I always miss my favourite seafood. So in a way the message I wanted to spread was actually my attempt to convince myself to convert because I was such a foodie, I refused to give up on my carnivourous diet.
After I got pregnant we had the Talk. I know my Husband wanted me to be a vegetarian and he understood my struggle. I just love my meat too much back then. He tried cooking for me during my pregnancy but my cravings got better of me. My compromise – do my confinement pure vegetarian style. So we hired a vegetarian confinement lady who was so awesome at cooking vegetarian food that I didn't miss any meat at all during that month.
She suggested I continue since I'd already built my momentum but I was reluctant. I was actually looking forward to my Salmon Sashimi once my confinement was over! My Husband and I also had a chat about how we want to bring up our child. Compassion is a virtue we'd like to instill in him and therefore I'm met with another challenge. How can I explain to my child why Mummy eats meat while Daddy's reason for not eating meat is his love for animals? Knowing how children seems to love animals naturally, I felt like such a hypocrite. We both also know that the best way to teach a child is to show them by being an example. Plus at the point when my confinement ended, there was a nationwide news on some GBS problem caused by raw fish. I took that as a sign and just continued my vegetarian journey.
It's been 6.5 months (as old as my Son as I started on day 1 of my delivery) and my journey so far was definitely not a bed of roses.
There were days when I miss having meat. Days when I salivate upon seeing BBQ chicken wings or smell KFC. While initially I do have to exercise some self-discipline not to eat any especially when I was hungry, nowadays it's getting easier to exercise the choice to go meatless.
The toughest moment was once, during my 2nd month of being a vegertarian, I was walking around the neighbourhood mall and I was famished. While in the past I could just buy something from Old Chang Kee to just get me by till I reach home, I couldn't find any suitable food for myself this time round. I went home to my Husband and broke down in tears. I felt like all my choices were taken from me and that I've nothing to eat. Of course, that's not true and I'm glad I've moved past this.
I'm glad to report something interesting I noticed recently. While I used to look at crabs in aquariums and think, "Wow, I'd love to have some of this Alaskan crab legs" now I find myself thinking, "What a beautiful creature! Such a pity he's kept in such a small tank and awaiting death." I'm surprised to also find myself feeling a little sad for him. This is just a subtle difference I've noticed in myself so far and I hope to gain more insight as time goes.
---
I hope by sharing my journey and struggle, people who are on the fence about being vegertarian or are struggling themselves can know that they are not alone. At the same time I'd like to encourage people to go meatless if possible, if not, try to incorporate more vegetables in your lives. After all, vegetarian food can be tasty too!
---
---